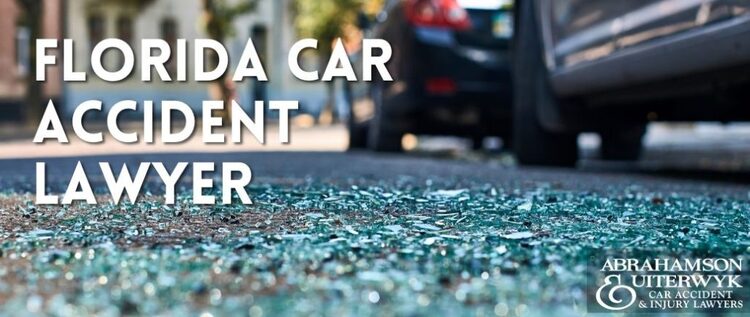 ---
Statistics indicate that Florida has the highest number of uninsured drivers in the country. The chances of being involved in an accident with an uninsured motorist are high, ranking 6th with 20.4 uninsured drivers. It is always stressful to be involved in a car accident, regardless of the circumstances. Medical bills, auto repairs, car rentals, lost wages, injuries, and litigation are not pleasant experiences. The situation is made even more stressful if either of the drivers possesses no auto insurance.
According to Florida Statute 324.021, every motor vehicle registered in the state must have insurance coverage for at least $10,000 to cover damages they may cause. This minimum requirement is called PIP insurance and is not considered to be full coverage. In spite of this law, it is important to note that not all motorists follow this law. In fact, over 503,000 financial responsibility suspensions were reported by the Florida Highway Safety and Motor Vehicles in 2011-12. Consequently, more than half a million drivers have had their driving privileges suspended for driving without adequate insurance or no insurance at all.
Uninsured motorists may be concerned about their options and what the future holds if theta re involved in an accident. As accidents often result in damages, it is important to be aware of all options, regardless of whether or not the driver is insured.
Florida Motor Vehicle Insurance Laws
It is mandatory for every motorist in Florida to have personal injury protection (PIP) insurance coverage in case of an accident. Those injured in an automobile accident are covered by PIP, including the driver, passengers, as well as pedestrians, and bicyclists. A minimum coverage amount of $10,000 is required for medical and disability benefits and $5,000 for death benefits. Compensation is provided to the victim regardless of who was at fault. Drivers should be aware, however, that if they are involved in a car accident, the driver's own insurance company will cover up to 80% of the driver's reasonable medical expenses and up to 60% of their lost wages, regardless of the amount of PIP coverage the driver carries. However, if a driver has been convicted of a DUI or other traffic offense in Florida, they will be required to carry a higher level of insurance.
The state of Florida does not require drivers to carry uninsured motorist coverage. An uninsured motorist's policy will provide coverage for the maximum amount permitted under the policy for a motorist involved in a serious accident. A large number of Florida drivers do not have the required coverage or do not have enough coverage to cover the costs of injuries caused by uninsured drivers. Therefore, it is recommended that drivers obtain an insured motorist policy to assist with the cost of damages if an accident with an uninsured motorist occurs.
Steps To Take After Being In An Accident With No Insurance

The most important thing an uninsured driver can do when they are involved in an accident remains at the scene. While driving without insurance has consequences of its own, they pale in comparison to the consequences of leaving the scene of an accident has. Leaving the scene of an accident in Florida is illegal and could result in a criminal hit-and-run charge as well as other severe consequences, especially if an individual is hurt in the accident.
The following are additional steps to follow when involved in a motor vehicle accident with no insurance:
Contact emergency services, especially if there are visible or significant injuries
Contact local law enforcement to have them conduct an investigation and fill out a police report.
Exchange insurance and contact information with everyone involved in the accident, including witnesses
Do not admit fault in any way. Do not say "I'm sorry" or anything else that could possibly be construed as a confession or admission of guilt. Refrain from discussing any details about the crash
Take photographs of the scene of the accident. This should include all vehicles involved, skid marks, street signs, etc.
The importance of keeping things in perspective cannot be overstated. Many drivers without insurance are tempted to leave the scene of the accident and try to escape the consequences. Many drivers also believe that due to them not carrying automotive insurance, they will be immediately deemed at fault for the accident. However, despite the fact that it is illegal to drive without insurance (or without proof of financial responsibility), the fact that the driver is uninsured does not affect the determination of fault.
Uninsured But Not At Fault - What Happens Next?

It is likely that a driver will not be responsible for the other driver's injuries or property damage if the other driver caused the accident. Nevertheless, drivers should be aware that the government could still take action against them for any violation of the law, and that includes not carrying the proper insurance.
When a driver is found to be driving without the legal minimum insurance coverage, they may face many consequences. Drivers without insurance may have to face legal penalties such as:
Suspension of driver's license
Fines
Impoundment of vehicle
Collateral consequences
There is also a possibility that an uninsured driver may be involved in an accident that is deemed faultless. A situation such as this will require the uninsured motorist to pay for their own medical bills and vehicle damage out of pocket. It is also possible for drivers with recent accident histories to be charged higher premiums for thier auto insurance policies, even if they were not deemed at fault in an accident. Alternatively, if the driver already has insurance, their rates may increase following an accident, but not as dramatically as if they were considering opening a new policy.
Even if a driver does not have insurance at the time of the accident, they can still file a lawsuit to recover damages for their injuries and lost property. A successful claim will depend on the uninsured driver's ability to prove that the other driver was negligent or reckless behind the wheel and that their actions caused the accident. Obtaining damages for a lawsuit can cover a driver's medical expenses, such as ambulance fees, hospitalizations, surgeries, and physical therapy. The uninsured motorist's lost wages and any decreased earning potential resulting from any injury will be compensated if the driver cannot work due to their injuries. In the event that the driver's injuries cause them extra pain and suffering, the compensation will increase proportionately based on their loss of enjoyment of life and the hindrances their injuries may cause to their personal life.
---