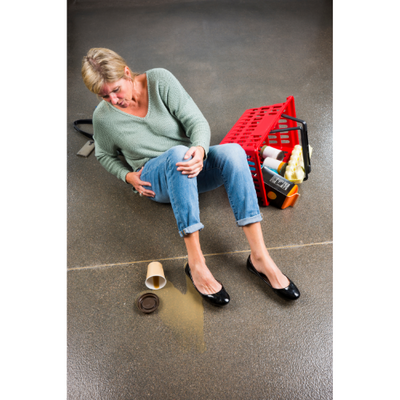 ---
Suffering a slip and fall accident in Florida can result in a distressing and painful experience with long-lasting effects. Even though a slip and fall incident may only take a few seconds, the consequences can be significant and lingering.
Although slip and fall accidents can happen anywhere and at any time, parking lots are frequently the location where these incidents occur. In the event that an individual has a slip and fall accident in a parking lot, it's important for them to know they have legal rights and options to recover. An experienced slip and fall attorney can assist victims of slip and fall accidents with the expertise and knowledge required to fight for their rights. Their goal is to guide slip and fall victims through the legal process and support them during this challenging time. Get in touch with a Florida slip and fall attorney today to discuss a slip and fall case and explore the potential solutions we can offer.
An Overview Of Parking Lot Slip and Fall Accidents
In the event that an individual falls down in a parking lot, it may be necessary to pursue legal action through a lawsuit. However, there are certain measures they should take before reaching the stage of filing a lawsuit.
What To Do After Being In A Parking Lot Slip & Fall Accident
Many individuals are unfamiliar with the process of dealing with injuries from a slip and fall incident, therefore it can be difficult to know what to do next. However, it is essential to understand the necessary actions to take after a parking lot accident to ensure a victim's recovery. Failing to take proper steps could potentially harm their ability to seek compensation later on. Here are three critical steps parking lot slip and fall victims should always follow after a slip and fall accident.
Step 1 - Seek Immediate Medical Attention
After any slip and fall accident, the initial and frequently most significant step is to seek immediate medical attention. The health and safety of a parking lot slip and fall victim are of utmost importance, and a prompt diagnosis can be critical. Failure to receive timely medical attention and treatment for any potential injuries can result in further harm and prolong the recovery process.
Even if a victim does not experience any immediate pain or detect any injuries following the fall, it is still essential to visit a healthcare professional to rule out any potential harm. Sometimes, individuals may not feel physical discomfort due to adrenaline after the incident, making it vital to seek medical attention as soon as possible.
Step 2 - Collect Evidence
If injuries permit, it is always advisable to collect as much information as possible at the accident scene. Often, valuable evidence can be obtained right after the fall.
One simple way to collect information is by using a cell phone to take photographs. Capture images of the location of the accident, the surroundings, any injuries sustained, damage to personal items, and anything else that might relate to the incident or injury.
Other details that can be gathered at the scene and used as evidence include:
The address of where the incident occurred

Contact information of the business representatives in charge of the parking lot

Contact details and statements from any witnesses to the accident

Video of the slip and fall accident occurring
The more information and evidence a parking lot slip and fall accident victim can gather about their case, the stronger their case will be. Therefore, try to gather as much information and evidence as possible.
Step 3 - Contact A Florida Slip & Fall Accident Attorney Near You
Once receiving medical care for any sustained injuries, it is recommended to contact a parking lot slip and fall lawyer to discuss the case. Most attorneys provide a complimentary case evaluation, so it is advantageous to have an initial consultation.
Having an experienced parking lot slip and fall attorney on a victim's side can significantly benefit the outcome of their slip and fall lawsuit. Individuals who are unfamiliar with the legal process may make minor and avoidable errors that could potentially restrict their ability to recover compensation. However, parking lot slip and fall lawyers in Florida possess extensive knowledge of the law, and they can assist slip and fall victims in avoiding such mistakes and ultimately strive to maximize their lawsuit recovery.
How A Slip And Fall Accident Attorney In Florida Can Help
A Florida slip and fall accident attorney will be well-equipped to handle any slip and fall case. An experienced parking lot slip and fall accident will be dedicated to aiding injury victims and will be committed to providing the best legal representation for them.
A slip and fall lawyer will conduct an initial assessment of the slip and fall case, and conduct a comprehensive investigation to determine the compensation they may be eligible for. They will aggressively negotiate with insurance companies and opposing parties to fight for the rights of a slip and fall victim. Additionally, they will not hesitate to take a case to trial if that is the most suitable course of action.
Parking Lot Slip And Fall Accident Frequently Asked Questions
It's understandable that the time following a parking lot slip and fall accident can be a challenging time for any victim. To assist in helping slip and fall accident victims in obtaining the information they require, we have addressed some commonly asked questions.
How Much Does A Slip & Fall Attorney Cost?
Numerous slip and fall attorneys in Florida provide a no-fee guarantee to alleviate the financial stress on clients who need legal representation. Essentially, this implies that a victim will not be obligated to pay any legal expenses or costs when they retain a slip and fall attorney until their case is won.
What's The Average Slip And Fall Accident Settlement?
There is no typical settlement amount for a slip and fall accident in Florida. Nevertheless, several elements can influence the amount of compensation a victim may be able to obain. To determine the potential value of a slip and fall settlement, please contact a Florida slip and fall attorney near you.
What Damages Can Be Recovered In A Florida Slip And Fall Accident?
Compensation for slip and fall accidents often covers medical bills, lost wages, and decreased earning potential resulting from a victim's injuries. Additionally, they may be eligible to seek damages for pain and suffering, as well as emotional distress. However, since each case is unique, it's advisable to contact a Florida slip and fall attorney to discuss the specifics of a victim's case.
---