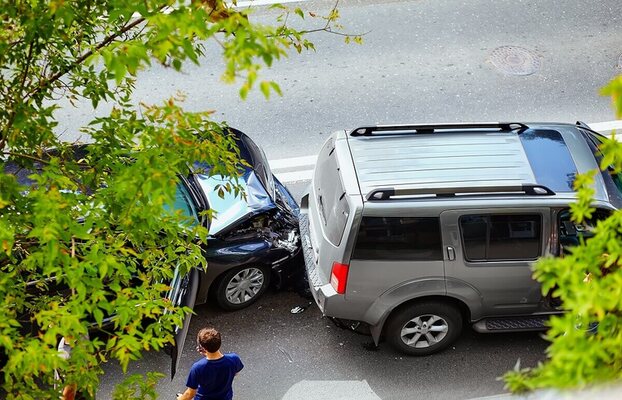 ---
What Compensation Is Available in a Drunk Driving Car Accident Case?
Being involved in a car accident can be traumatic for anyone. When a driver is drunk, their carelessness puts everyone at great risk. Alcohol acts as a depressant, it slows the body down, which affects a driver's depth perception, vision, reaction time, and overall vehicular control. Collisions with pedestrians at intersections and on curbs are more likely to occur, as well as multi-vehicle accidents on highways, rear-end collisions, and speed-related accidents.
The National Highway Traffic Safety Administration (NHTSA) estimates that two out of three people will be involved in a drunk driving accident at some point. Since drunk driving is so dangerous and frequent, it is important to understand what happens in a drunk driving accident case and what types of compensation are available.
What is an Average Settlement Amount for a Drunk Driving Car Accident Case?
There isn't really an average settlement because every case/claim is fact-dependent. The value of a claim depends on a number of factors, such as the extent of property damage, types of injuries, the severity of injuries, type of treatment received, length of time treated, aggravating circumstances (such as excessive speeding, drunk driving, etc.), amount of medical bills, amount of insurance policy limits available, etc.
Every drunk driving case is different. Find an experienced personal injury attorney at Attorney Yellow Pages to ensure that you are doing everything required of you to get the best possible result.
Potential Compensation in Drunk Driving Cases
When someone is involved in a drunk driving car accident, they may be entitled to several types of compensation. They fall into one of two categories: economic and non-economic damages. The distinction is important because of the burden of proof involved. In most cases, the amount of the settlement is determined by policy limits. For this reason, it is helpful to involve a lawyer who knows what to look for to garner the best compensation outcome. Economic compensation is usually simple to determine and involves payment for the following:
Any medical-related bills, such as a hospital visit or physical therapy.
Any lost wages due to time missed from work as a result of the car accident.
Any permanent injuries that result from the accident.
Loss of future earnings in the case of permanent injuries.
The loss of a loved one due to the accident, including burial and funeral expenses.
Property damage to the vehicle.
On the other hand, non-economic damages are harder to calculate because their monetary value is not as straightforward. These damages are often highly contested and negotiated during the settlement process. They include compensation for the following:
Present or future pain and suffering from the experience.
Any counseling or psychological treatments due to the accident.
Damage to the non-fault driver's reputation.
Loss of the ability to socialize or anxiety related to driving.
In the most severe cases, punitive damages might be awarded. This is compensation above and beyond that is intended to punish the driver who caused the accident due to the drunk driving being habitual or overly egregious behavior.
Where Does the Compensation Come from?
Sometimes, getting the appropriate compensation is not easy. After all, where does the money come from, and what if the intoxicated driver does not have insurance, is underinsured, or leaves the scene? The injured party still needs to be fairly compensated for the accident. Depending on the situation, numerous people could be found responsible for the accident or for taking care of the injured parties; thus, there are many ways to garner compensation.
The intoxicated driver's insurance company is the first go-to source. The injured party's insurance company sometimes picks up the difference in certain situations. Also, the person who provided alcohol to the drunk driver can be held liable if they knew the person was overly intoxicated and continued serving them. Guilty pleas or guilty verdicts change a limited tort restriction on insurance to a full tort automatically, allowing a person to receive pain and suffering compensation.
How can a Person Strengthen Their Personal Injury Case?
As with any car accident, the at-fault party's insurance company wants to pay out the least amount possible. The burden of proof is still on the injured party. Even if the insurance company agrees to accept liability for the accident, they may still try to settle for less than a person is entitled to. They may challenge the extent of their liability or argue that some of the injuries were due to pre-existing conditions. They might also look into the non-fault party's driving record. Almost any tactic is on the table, including downplaying the severity of any injuries.
It is highly recommended that a person obtains a personal injury lawyer to help handle their case. A lawyer will make sure the accident is fully documented and investigated, as well as determine important aspects of the case that can affect compensation, such as if the drunk driver was driving a personal or commercial vehicle or was overserved at the location of consumption.
What Needs to be Completed Immediately Following a Drunk Driving Crash?
It is also important to know how to handle a drunk driving car accident. The following includes steps to take after an accident with a drunk driver:
Remain calm, assess the situation, and make sure there is no further immediate danger.
Call 911 and let them know that the other driver is potentially drunk.
If the other driver is combative, remain in the vehicle.
Take notes and pictures of any pertinent information that helps prove liability.
Take down the contact information of any witnesses.
Keep all related evidence, including damaged property.
Seek medical treatment to make it known that the injuries are related to a car accident.
Ensure good records are kept.
Call the insurance company to report the accident.
Contact a lawyer to help file a personal injury
Do not accept a settlement without first contacting a lawyer. Also, refrain from posting about the accident on social media or accepting unknown friend requests while the case is active. Anything that can be done following the accident to help with the burden of proof of liability will benefit both the victim and their lawyer.
Find a Personal Injury Lawyer Today
Disclaimer: Every effort has been made to ensure the accuracy of this publication at the time it was written. The information provided on attorneyyellowpages.com is not intended to provide legal advice or suggest a guaranteed outcome as individual situations will differ and the law may have changed since publication. Readers considering legal action should consult with an experienced lawyer to understand current laws and. how they may affect a case.